THE MARKET SOLUTION
The Journalism Trust Initiative (JTI) aims at a healthier information space. It is developing and implementing indicators for trustworthiness of journalism and thus, promotes and rewards compliance with professional norms and ethics.
The JTI was originally launched and is now operated by Reporters Without Borders (RSF).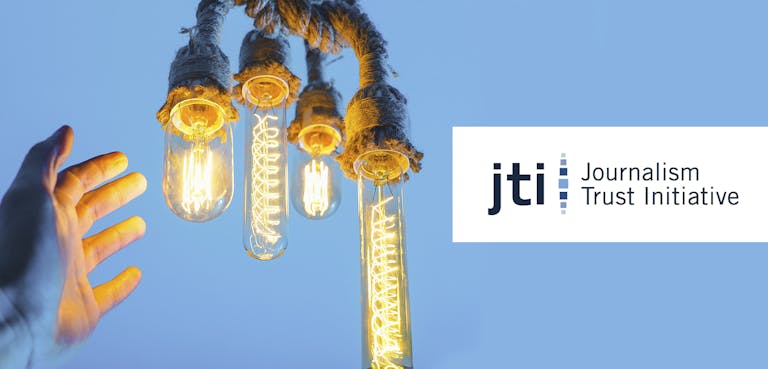 The Journalism Trust Initiative was initiated and is operated by the Paris-based press freedom watchdog and human rights NGO Reporters Without Borders (RSF), supported by partners such as the European Broadcasting Union (EBU) and Agence France Presse (AFP).
It has been developed by a panel of 130 experts including journalists, institutions, regulatory bodies, publishers, and new technology players under the aegis of the European Committee for Standardisation (CEN) and published as Workshop Agreement CWA 17493 in December 2019.
As a public good and reference, it is available for download free of charge.

THE INTERNATIONAL STANDARD
Designed as an ISO standard, the JTI standard is based on decisive and objective criteria.
These 130 criteria relate to the transparency of the media and the professionalism of the editorial processes, including:
the application of an editorial line
the existence of correction mechanisms
the management of automatically generated content
internal/external control
transparency on the identity of the owners
the income sources
proof of compliance with professional guarantees
The JTI differs from other trust indicator projects in that it focuses solely on the process, the level of "making" of journalism and not on individual content, dealt with on a case-by-case basis.

The standard creation
The following organizations and experts registered as participants and contributed to the development of this document.



Reporters Without Borders (RSF) works for journalistic freedom, independence and pluralism all over the world. It is headquartered in Paris, with 13 bureaux and sections around the world and correspondents in 130 countries. RSF has consultative status at the UN, UNESCO, Council of Europe, African Commission on Human and Peoples' Rights, and the Organisation internationale de la Francophonie.
RSF provides information about the media freedom situation throughout the world in French, English, German, Spanish, Portuguese, Arabic, Farsi and Chinese;
Every year, RSF publishes the World Press Freedom Index, which measures the level of media freedom in 180 countries;
RSF engages the public by means of awareness campaigns;
RSF advocates with governments and international organizations. The NGO meets with decision-makers and lobbies them directly. RSF activates and mobilizes networks at the highest level, drafts proposed legislation for governments;
RSF protects and trains journalists. RSF provides material and emergency funding to journalists in difficulty. The organization takes legal action and registers as an interested civil party in cases involving journalists. RSF organizes training in physical and digital security for journalists in France and abroad. 
In the online information space, in which false information circulates faster than real news, the defense of journalism requires to reverse this trend by giving a real advantage to all those who reliably produce news and information, whatever their status. That's why RSF created the Journalism Trust Initiative (JTI).
Co-funders
The European Commission's Directorate General for Communications Networks, Content and Technology (CNECT) co-funds projects to promote media freedom, investigative journalism and defend journalists under threat. The actions are geared at providing support to independent, collaborative journalism in the EU Member States and at promoting media freedom across the EU. With two of these actions and a third one within the Creative Europe Programme, the JTI was selected for co-funding to raise awareness of the importance of media freedom, quality and ethical journalism for democracy.
Craig Newmark Philanthropies was created by craigslist founder Craig Newmark to support and connect people and drive broad civic engagement. The foundation works to advance people and grassroots organizations that are getting stuff done in areas that include trustworthy journalism, voter protection, gender diversity in technology, and veterans and military families.
The National Endowment for Democracy (NED) is an independent, nonprofit, grant-making foundation dedicated to the development and strengthening of democracy around the world, supporting a vibrant civil society that promotes human rights, an independent media, and the rule of law. With an annual appropriation from the U.S. Congress, NED funds more than 2,000 grants in 100 countries, including the development and testing of JTI capacity building tools.
Agence Française de Développement (AFD) implements France's policy on international development and solidarity. Through its financing of NGOs and the public sector, as well as its research and publications, AFD supports and accelerates transitions towards a fairer, more resilient world. It also provides training in sustainable development (at AFD Campus) and other awareness-raising activities in France.
With its partners, including Civil society organizations (CSOs), Agence Française de Développement is building shared solutions with and for the people of the Global South. With the CSO Initiatives Fund, CSOs can submit a project for co-financing by AFD. It thereby contributes to strengthening civil societies and their action all over the world, in conjunction with local organizations.
AFD's teams are at work on more than 4,000 projects in the field, in the French Overseas Departments and Territories, in 115 countries and in regions in crisis. AFD strives to protect global public goods – promoting a stable climate, biodiversity and peace, as well as gender equality, education and healthcare. In this way, we contribute to the commitment of France and the French people to achieve the Sustainable Development Goals (SDGs). Towards a world in common.
Supporting Partners
Founded in 1835, Agence France Presse (AFP) is the third largest international news agency in the world delivering fast, accurate, in-depth coverage of the events shaping our world, from conflicts to politics, economics, sports, entertainment and the latest breakthroughs in health, science and technology. It is an autonomous entity created by the French parliament (Law N° 57-32 of 10 January 1957) whose operation is assured according to commercial rules. Its independence is at the heart of its fundamental obligations set out in its bylaws (article 2). Its Chairman represents the Agency and ensures its general management. AFP is administered by a board of eighteen directors composed of representatives of publishers, of broadcasting companies, of three government representatives as public services users, of members of its staff and of qualified individuals chosen by its higher counsel for their knowledge of media and digital technologies, economic and managerial skills. AFP has a duty to fulfill missions of general interest in the field of news and must, to the full extent of its resources, develop its activities with a view to providing users with accurate, impartial and trustworthy news services.
The European Broadcasting Union (EBU) is the world's foremost alliance of public service media (PSM). Our mission is to make PSM indispensable. We represent 117 media organizations in 56 countries in Europe, the Middle East and Africa; and have an additional 34 Associates in Asia, Africa, Australasia and the Americas. Our Members operate nearly 2,000 television and radio channels alongside numerous online platforms. Together, they reach audiences of more than one billion people around the world, broadcasting in more than 160 languages. We strive to secure a sustainable future for public service media, provide our Members with world-class content from news to sports and music, and build on our founding ethos of solidarity and co-operation to create a centre for learning and sharing. Our subsidiary, Eurovision Services, aims to be the first-choice media services provider, offering new, better and different ways to simply, efficiently and seamlessly access and deliver content and services. We have offices in Brussels, Rome, Dubai, Moscow, New York, Washington DC, Singapore and Beijing. Our headquarters are in Geneva.
Established in 2005, the Global Forum for Media Development (GFMD) is an international network of over 200 journalism support and media development organisations working across more than 70 countries. As a not-for-profit, Belgian-registered ASBL, GFMD's main focus is to foster collaboration as well as an exchange of information and experience amongst our members and partners with the aim to foster viable and independent journalism, greater transparency, and more pluralistic and sustainable media environments. GFMD is also a member of multiple initiatives and coalitions including the Global Network Initiative (GNI), the multi-stakeholder United for News coalition, the International Civil Society Organization on the Safety of Journalists Coalition (ICSO SoJ Coalition), the Christchurch Call Advisory Network, the Design 4 Democracy Coalition (D4D), the Freedom of Information Advocates Network (FOIAnet), and the Transparency, Accountability, and Participation for the 2030 Agenda (TAP) Network. Additionally, GFMD collaborates with the Journalism Trust Initiative (JTI), and was formally granted special consultative status by the United Nations Economic and Social Council (ECOSOC) in July 2018.