THE JOURNALISM TRUST INITIATIVE
While mistrust is growing towards media and journalists, journalistic content is in direct competition on platforms with any other type of content, it was urgent to find structural solutions to restore trust and create favorable conditions for it to recover.
This is what the Journalism Trust Initiative proposes with the implementation of an international mechanism rewarding ethical journalistic practices.
Designed as an ISO standard, the Journalism Trust Initiative, initiated by Reporters without borders (RSF), has been developed by a panel of 130 international experts under the aegis of the European Committee for Standardisation (CEN) and published as Workshop Agreement CWA 17493 to reward trustworthy journalism and compliance with professional norms.
More than 1000 media outlets in over 80 countries are involved in the Journalism Trust Initiative mechanism.
THE PROBLEM
NO LEVEL PLAYING FIELD FOR JOURNALISM VS. 'F*KE NEWS'
We live in an era of the grand de-enlightenment. On the Internet, algorithms tend to amplify the extremes – sensationalism, rumours, hate and falsehoods. Opinion and beliefs trump facts. The rule-makers in big-tech are not accountable to anyone. The rules of the game are in-transparent and change all the time. On this rocky, tilting and ever-changing playing field, journalism is unfairly disadvantaged, losing reputation, reach and revenues – which makes it even less competitive. That logic needs to be reversed. Democracy dies without a fact-based discourse.
THE SOLUTION
EMPOWERING TRUSTWORTHY NEWS WITH A COMPETITIVE ADVANTAGE
Journalism worthy of its name must be clearly distinguishable, by humans and by algorithms. That's why JTI is translating existing professional norms into machine-readable code. At the manufacturing level of journalism, benchmarks of quality and independence must be transparent and verifiable to reinstate trust. To that end, JTI provides indicators for media outlets to self-assess and comply with – and for citizens, advertisers and regulators to reward it. JTI is not ranking or rating individual pieces of content as such a mechanism might be misused to curtail the freedom of speech.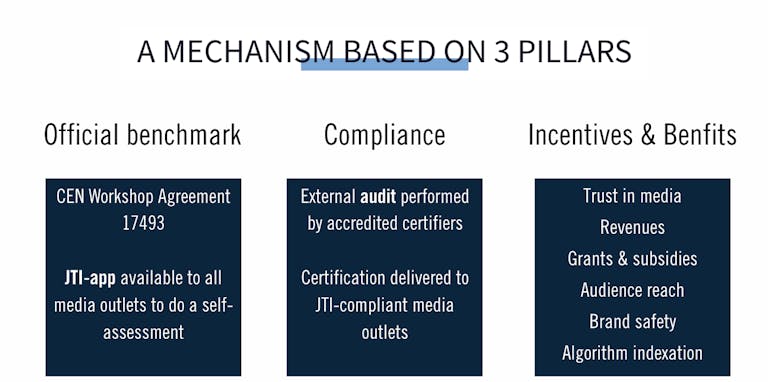 GIVING BACK TO JOURNALISM ITS COMPETITIVE ADVANTAGE


1. Incentivise media outlets to optimise editorial processes, performance, and ethical conduct by providing competitive advantages
2. Enable consumers and citizens, regulators, investors, donors and the private sector, like advertisers and distributors to identify and reward trustworthy journalism
3. Contribute to a healthier information space at large with an independent, transparent, systemic and potentially game-changing, self-regulatory mechanism
Not about content, not about individuals.
Not about "quality" – not granular, no ranking.
Not replacing existing ethical codes, press councils etc…